The "Last Trump" and the Long Overdue Death of the Bankrupt Philosophy of Conservatism
In the Revelation of my Father Jesus it says that those that worship the Beast and its Image.. who is Donald Trump the Son of Perdition ….will discover that they have written themselves a one-way ticket to the Lake of Fire, which is the place created for "all liars" (as in habitual liars) and all those ..."who maketh or loveth a Lie"… and Donald Trump has lived a lie since he decided to hang himself on the coattails of Roy Cohn
We are looking at the acts of a criminal…… but his criminality has poisoned every aspect of the Office of the Presidency
In truth we are seeing that the Conservative movement in it's entirety is just the self interest of the Ruling Class to destroy the true egalitarian nature of America as it's chief philosophic strength…. Conservatism is totally amoral…. because they are advancing the Social Darwinism of the acolytes of the atheist Ayn Rand….. a doctrine of selfishness and "I got minism…screw you…."
Where's the Social Contract ??? Gone with the Wind…..
Trump fosters the pernicious concept that self interest is one's guiding light…. and the GOP has now seen that the spirit of America and indeed the Free World…is diametrically opposed to the enslavement of mankind as the self interest of the Ruling Class as their Class War reaches it's unholy consummation…. the self immolation of Trump being now burned alive in the conclusion of his presidency as being a sacrifice on the Conservative Altar of Avarice and Megalomaniacal self glorification….
The Prophetic lesson seen in "the Last Trump
The prophetic lesson seen in "the Last Trump" is that my Father Jesus saw Trump coming from way back….and prepared a Ukrainian Rebuke in Zelensky's apparent capitulation to Trump without actually ever doing so…..a cosmic Object Lesson for the World to see….. Trump has been caught and brought down by using his office to serve his own self interest…but ended up serving Zelensky's instead….as all the American officials of the State Department are now protecting the Ukraine as the Shield of God against the ravening attack against them by the Beast of Russia's Fascist Christ Vlad Putin…and his sycophantic slave Donald Trump…the very Image of Putin as his Global Shadow…advancing the self interest of Putin as aligned with his own
This is what troubles Bill Moyers the most as he slammed the direction of the televised impeachment…. because we must unmask the actual cancer in America as the Conservation trifecta of Avarice, Corporate Sovereignty…and the Worship of the Beast…in this case it's newest incarnation as typified in the casual totalitarianism of Putin in his quest for absolute power in the global stage…and it's Image…in this case Trump as the Image of the Beast incarnate as Putin ….as the dagger in the Heart of America's Republic by the Judas Priestism of Mitch McConnell and the GOP who sold out the Rule the Law to instead worship Trump as their "Law unto himself" as being much more expedient to enslaving America in a Image of Communist One Party Rule which Putin has taught them so well and Trump has embraced with all his heart….with the abject surrender of the GOP Red Chinese Manchurian Candidate…Mitch McConnell…who even now says if Trump loses that he will block Bernie Sanders and every Democratic Initiative just as he did with Barack Obama..effectively killing his Presidency…as he even now declares he will do again to Bernie Sanders…
Trump is just the Gloss to hide the real power behind the Throne of the Class War which has now almost destroyed America: Mitch McConnell…the Agent of Red China with his treasonous wife and their Russian Mafia pals like Oleg Deripaska…who gave the NRA 30 million dollars which went straight to Donald Trump and rescued his campaign from defeat by RALLYING the 2nd Amendment "GUN NUTS" to their absolute ZENITH… which has also now imploded …..just like Trump.
What we are seeing now is the defeat of the unenlightened concept of self interest by the enlightened view of the same…. As Rochefoucauld said…himself a student of Realpolitik amidst the endless intrigue in the French Court which finally brought about it's own demise in the end of the Monarchy……. "Self Interest blinds some men…but helps others to see the Light….." The Last Trump is indeed this object Lesson in the colors of Red, White…and Blue…which are also the colors of the French Flag as well…. as out own overdue "French Revolution" against the Monarchism of the Southern Anti-Christian Theocracy whose King is the Neo Confederate Icon of the KKK and David Duke: Donald Trump..as their resurrected Jefferson Davis in the Southern White House…and whose end shall be the same...
https://houseofpublicdiscourse.podbean.com/
https://www.podbean.com/media/share/pb-e59ch-c5b735?utm_campaign=u_share_ep&utm_medium=dlink&utm_source=u_share#tab3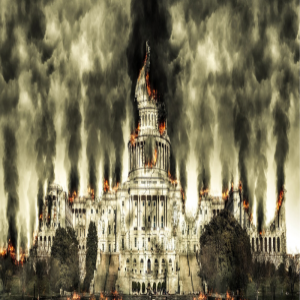 in 1944, an ill President Roosevelt (just about a year before his death), the war having taken its toll, addressed Congress in his 11th State of the Union message. At one point, FDR proposed a 2nd Bill of Rights, so to speak, that would cover American's rights where the The Bill of Rights had left off, or covered insufficiently. Of course, he did not intend for a change in the US Constitution, but rather these implementations would be enacted "politically" through legislative change.
Here is perhaps the most poignant message of the speech, as an introduction to his proposed bill of rights "addendum"…
"…It is our duty now to begin to lay the plans and determine the strategy for the winning of a lasting peace and the establishment of an American standard of living higher than ever before known. We cannot be content, no matter how high that general standard of living may be, if some fraction of our people—whether it be one-third or one-fifth or one-tenth—is ill-fed, ill-clothed, ill-housed, and insecure.
"….In our day these economic truths have become accepted as self-evident. We have accepted, so to speak, a second Bill of Rights under which a new basis of security and prosperity can be established for all—regardless of station, race, or creed.
Among these are:
The right to a useful and remunerative job in the industries or shops or farms or mines of the nation;
The right to earn enough to provide adequate food and clothing and recreation;
The right of every farmer to raise and sell his products at a return which will give him and his family a decent living;
The right of every businessman, large and small, to trade in an atmosphere of freedom from unfair competition and domination by monopolies at home or abroad;
The right of every family to a decent home;
The right to adequate medical care and the opportunity to achieve and enjoy good health;
The right to adequate protection from the economic fears of old age, sickness, accident, and unemployment;
The right to a good education……"
Looking at the Realpolitik of Bernie Sanders
Speaking at Liberty University in 2015
"….I am not a theologian, I am not an expert on the Bible, nor am I a Catholic. I am just a United States senator from the small state of Vermont. But I agree with Pope Francis, who will soon be coming to visit us in the United States.
I agree with Pope Francis when he says, and I quote,
"The current financial crisis originated in a profound human crisis, the denial of the primacy of the human person," and this is what he writes: "We have created new idols. The worship of the ancient golden calf has returned in a new and ruthless guise in the idolatry of money and the dictatorship of an impersonal economy lacking a truly human purpose," end of quote.
And the pope also writes, quote,
"There is a need for financial reform along ethical lines that would produce in its turn an economic reform to benefit everyone. Money has to serve, not to rule," end of quote.
Now those are pretty profound words, which I hope we will all think about. In the pope's view, and I agree with him, we are living in a nation and in a world, and the Bible speaks to this issue, in a nation and in a world which worships not love of brothers and sisters, not love of the poor and the sick, but worships the acquisition of money and great wealth. I do not believe that is the country we should be living in.
Money and wealth should serve the people. The people should not have to serve money and wealth. (APPLAUSE)….."
========================================================================
Jim the Evangelist bears Witness from that Night at Liberty 
Universit

y
Hi my name is Jim. I am the guy who recently posted onto Reddit under the Sanders4President Subreddit that I'm a Liberty University Alumni, and that I support Bernie, and think that he's a good spokesman for justice.
I thought I would take a second to, sort of, unpack that, because I could tell there's a lot of people, both Evangelical conservative folk and more liberal Bernie-supporting folk, who are very confused that I could occupy both worlds. So, I thought, I'll take a few seconds and explain myself, and maybe that will be helpful for the conversation.
So a little bit about me. I am not a current student at Liberty. If I was, I actually wouldn't have been able to post onto that Reddit board and say that I'm supporting Bernie. There is an Honor Code at Liberty University, and while it's not always enforced, if you support a candidate who is pro-choice or pro-gay marriage, you can be punished by the University, up to and including expulsion from the school. 
So as a graduate of Liberty University, I'm in a good position to represent folks that might go there and people from the Evangelical tradition, but not be within the world that they can, you know, punish me for my opinion.
So I got my Bachelors degree in Religion from Liberty University, and I also got my Masters degree from Liberty University in Marriage and Family Therapy. In 2004 I worked for the George W. Bush campaign. I spent about 8 years as a Conservative pastor. And also as a schoolteacher at a conservative Christian academy. And today I serve my community as a therapist and also a pastoral counselor, somebody that folks from churches might go see to get counseling whenever they want to see somebody who's both a clinical counselor but also a pastor.
So I serve all those roles. I think I'm pretty much a card-carrying Evangelical Christian. I still subscribe to a conservative evangelical theology.
And what that means, a lot of people get confused when they hear the word 'conservative,' they assume you mean politically. 'Conservative theology' means that I believe the Bible is trustworthy, I think that God inspired it, Jesus was absolutely real, and really died on the cross, and really did resurrect three days later; and I am an Evangelical Christian in that way.
So, how did I come to find myself supporting Bernie Sanders? How did that evolution take place? How could it be that in 2004 I was working for the George W. Bush campaign, and today in 2015, as a double Liberty University graduate, under Jerry Falwell—when I went to school, Jerry Falwell was the Chancellor—how is it that I could be now supporting Bernie Sanders, who's a very progressive, very liberal guy; he describes himself as a 'democratic socialist.' How do I find common ground on those two things?
Well a lot of people I think falsely believe that in order to do that you have to give up one of your sides. Either you have to not really be a progressive, and you're just an Evangelical who just likes Bernie, or you have to not really be an Evangelical, and just secretly be a Progressive who's faking it and pretending to be an Evangelical, but wouldn't actually pass the litmus test of being an Evangelical.
I pass both tests, I am very much 100% legitimate in both camps, and I want to explain why that's not a mythological thing, that's not a disconnect. Some people call that a contradiction, or hypocrisy, it is absolutely not. 
I believe that my views are 100% consistent. And so I think that the shock value for that comes in beginning to appreciate that the Bible and Jesus, in my opinion and in my very moderate reading of the Bible and the words of Christ, leads us to a Progressive worldview.
And that is shocking to a lot of people, especially folks back home in the Evangelical community, they hear that and go, "What are you talking about? That's heresy—"… it's like, hold on. Hear me out. There is a Biblical argument for voting for Bernie Sanders, believe it or not, and I'm gonna walk you through it really quick on some key issues.
So that first issue that I'd kind of point your attention to is kind of what Bernie brought up during his speech at Liberty. Basically, the wealth inequality problem—and see a lot of us, on the Evangelical side think that what Jesus really cares about is gay marriage and abortion. And of course, the great irony is if you read the red letters of Jesus, there are no statements on abortion. There are no statements on gay marriage. Now, that's not to say the Bible doesn't speak about these things, but it certainly is to say that Jesus, founder and master of our faith, did not see fit to make these high-priority topics. It's not to say he doesn't care. But it is to say that we need to be careful not to 'major on minors.' We should be focused on the things Jesus did talk about.
So what did Jesus talk about?
So here's the interesting thing. When I was watching Bernie Sanders talk at Liberty University, I was just really shocked, and something kind of magical happened for me, because as I watched that guy stand up on that stage, here's what I saw. I saw a wild-haired Jew crying out in a hoarse voice, in a very forceful and forth-speaking way, he was convicting the Christian leaders and religious leaders in that University and calling us out for being complicit in the abandonment of those who suffer:
"The least of these."
And siding with the powerful and the rich and the masters of this world.
And he was convicting us, and calling us out. And we scorned him, and we stared him down, and with sour faces we thought, "Who is this whacko? And why do all these people seem to follow him, seem to like him? This wild-haired Jew, crying out from the wilderness of the political Left, in his hoarse voice?"
And if you're an Evangelical listening to me today, you already know where I'm going with this. When I heard Bernie speaking in that way, when I saw that guy on stage at Liberty University, I saw John the Baptist.
I saw the wild-haired, roughly-clothed John the Baptist, eating honey and wearing camel's hair, and crying out to the religious leaders, the Pharisees of his day, calling them corrupt and complicit with those who have all the power and all the money and all the wealth, and for abandoning the people that God loves, that God cares about.
For the Pharisees, who were siding with those who already have power and wealth and saying that they will be the last in the Kingdom of God, and that the weak, and the meek, and the simple, and those who need help—they are first in the Kingdom of God.
And I saw that guy, that John the Baptist figure, who is standing up and saying
"There is coming a messenger, there is coming a messenger who will bring equity and justice to the poor, and to the weak, and who will stand for 'the least of these.'"
That's the wild-haired Jew that I saw up on that stage. I saw, and felt, the same voice coming from the Bible when I read about John the Baptist, who cried out in the desert to the Pharisees, warning them that Jesus was coming, the messenger of God. And that he was coming to restore justice, to proclaim the year of the Lord's favor, and to value 'the least of these' when the Pharisees had failed.
And as I heard Bernie talking, and as I listened to his cries for justice, I remembered, suddenly, what Jesus had actually said in the Book of Luke, when he unravels the scroll in the synagogue, and he quotes the Book of Isaiah, which says that the Son of God was coming. And then he says,
"

This has been fulfilled in your presence here today."
He quotes the book of Isaiah which says that the Son of God is coming to bring justice, and Jesus says "it is now come to pass in your presence." And he says, "I have come to bring Gospel to the poor."
Gospel—is that word we Evangelical Christians have based everything on. Gospel means 'good news.' And Jesus said "I have come to bring good news to the poor." To restore sight to the blind, to stand with the suffering, to set the captives free, and to proclaim the year of the Lord's favor.
Whoa.
As I heard Bernie Sanders crying out to the religious leaders at Liberty University, in his hoarse voice, with his wild hair, this Jew, and he proclaimed justice over us. He called us to account for being complicit with those who are wealthy and those who are powerful and for abandoning the poor, 'the least of these' who Jesus said he had come to bring good news to.
And in that moment, something occurred to me, as I saw Bernie Sanders up there, as I watched him I realized: Bernie Sanders, for President, is good news for the poor. Bernie Sanders for President is good news for the poor. Bernie Sanders is Gospel for the poor.
And Jesus said, "I have come to bring Gospel—good news—to the poor."
And lightning hit my heart in that moment. And I realized that we are Evangelical Christians, that we believe the Bible. We believe in Jesus. We absolutely shun those who attempt to find nuance and twisted and tortured interpretation of scripture that they would use to master all other broader interpretations, to find some kind of big message that they want to flout. We absolutely scorn such things.
And yet somehow, we commit to the mental gymnastics necessary that allows us to abandon 'the least of these,' to abandon the poor, to abandon the immigrants, to abandon those who are in prison.
I listened to Bernie Sanders, as he said he wanted to welcome the immigrants and give them dignity. As he said he wanted to care for the sick children, and mothers, and fathers, who do not have health care. As he said he wanted to decrease the amount of human beings who are corralled like cattle in the prisons. As he said he wanted to do justice for those who have nothing and live homeless.
And I remembered the words of Jesus, who warned his disciples that there will be judgment, and on that day he will look to his friends, and he will say 'Blessed are you, for you cared for me, for I was naked and you clothed me; I was sick, and you cared for me; I was hungry, and you fed me; I was thirsty and you gave me something to drink; I was in prison, and you came to visit me; I was homeless, and you gave me shelter." And the disciples said, "Jesus, when did we do any of those things for you?"
And he said, "If you have done it for 'the least of these,' you have done it for me."
And those words echoed in my heart. As I listened to that crazy, hoarse-voiced, wild-haired Jew, standing in front of the religious leaders of the Evangelical movement, calling us to account, as a Jew once did before. Telling us that he intends to care for 'the least of these.' To clothe the naked, to shelter the homeless, to care for the sick, to set the prisoners free.
Yes. I am an Evangelical Christian. I believe in the Bible. I follow Jesus. When I look at Bernie Sanders, and I hear the things that he's saying, it's like he's ripping them out of the pages of scripture. I would have to try to avoid the meaning of those words. I would have to bury my head in the sand to continue to support conservative policies. I am religiously conservative but I am not politically so.
And I think here is the heart and soul of it:
When we chose to follow Jesus, we decided that the Kingdom of God, and the men and women and children of this world, were more important than us. And that accidentally made us all liberals. The day we decided to follow Christ, and the day we decided that we value other human beings more than ourselves, we accidentally became liberals.
And so there is no contradiction between being a Bible-believing Christian and a Bernie Sanders supporter.
I follow the teachings of Christ: to care for 'the least of these.'
And I believe that just as John the Baptist once cried out in the desert for justice, and called the religious establishment to account, and hearkened unto the day that Jesus would walk among us, and declare equity and justice and good news for the poor; and just as that day came, that Jesus stood in front of the multitudes at the religious institution and said "I have come to bring gospel to the poor," I believe that Bernie Sanders now stands in front of us, wild-haired and hoarse-voiced, and he now declares justice for the poor. He declares good news for 'the least of these.'
He has come to bring gospel. And I wouldn't be much of a Christian if I didn't stand on the side of gospel for the poor. Because the last time I checked, that's where my master Jesus stood, and I'll stand with him. And for now, that means I stand with Bernie Sanders.
https://www.facebook.com/houseofpublicdiscoure/
Here's the core message driving Pope Francis's global revolution to save the world from "the dung of the devil," out-of-control capitalism which will play well when he addressed Congress this month in 2016.
John Boehner resigned the day after the Pope spoke to Congress; so it seems he listened closely to the man in the white suit:
1. Capitalists … are new worshipers of the biblical golden calf
Pope: "Money must serve, not rule, yet we calmly accept its control over us. Money originated in a profound human crisis, the denial of the primacy of the human person. The worship of the ancient golden calf has returned in a new and ruthless guise in the idolatry of money."
2. Invisible hand of God … replaced by greedy hands of capitalism
Pope: "Never trust in the so-called 'invisible hand' of the markets and economic remedies like cutting workers to increase their profits. The world needs a better distribution of income."
3. New Tyranny … capitalists are destroying democracy worldwide
Pope: "Ideologies increase the wealth of a minority exponentially, increasing the inequality gap, separating the most humans from the prosperity enjoyed by those happy few. A new tyranny is thus born, unilaterally and relentlessly imposing its own laws and rules."
4. Trickle-down economics … is a total capitalist disaster
Pope: "Free market trickle-down economics causes injustice. A naïve trust in the culture of prosperity and those wielding economic power deadens society."
5. Inequality … is the root cause of all 'social ills' in the world
Pope: "Inequality is the root of social ills. Help the poor, reject markets and speculation, attack the structural causes of inequality, or you will never solve the world's problems."
6. Consumerism … is out-of-control, destroying family/social values
Pope: "Today's economics promotes inordinate consumption, increases inequality, damages the social fabric, increases violence and serious conflicts. Blaming the poor and poorer countries for their troubles is misplaced, solve the corruption spreading at the top."
7. Competition … capitalist addiction to profits is killing morality
Pope: "The laws of capitalist competition, the survival of the fittest rule. The powerful feed upon the powerless, the vast majority are marginalized: No work, No opportunities. No escape. News is a two-point loss in stocks, but not the death of elderly homeless?"
8. Conservatism … encourages free destruction of natural resources
Pope: "In a world where everyone has their own subjective truth, citizens cannot develop common solutions that transcend personal ambitions. We need a new way of living and thinking that's more humane and noble, that brings dignity to all humans on this earth."
9. Exploitation … treating humans as mere economic commodities is sin
Pope: "Yes, humans are now consumer goods, used then discarded in our widespread throwaway culture. It is no longer about oppression and exploitation. Today, the excluded ones are no longer society's underside, no longer even a part of it, but outcasts, leftovers."
10. Capitalism has lost its moral compass, turned its back on God
Pope:
"

Behind capitalist economics lurks a rejection of ethics and God that debases humans. This lack of morality and ethics results in God calling for solutions outside marketplace economics, to make it possible for a more balanced and humane social order.

"
Bottom line:
Pope Francis spoke to Congress in the position the world's moral conscience, as well as leader of a new peoples revolution. Francis is seen by billions worldwide as a revival of the moral values missing in today's world because of our obsessive consumerism, self-centered wealth-building, and an out-of-control capitalist ideology with no moral conscience … so Rush isn't the only conservative going bonkers … because Pope Francis's new commandments really are an historic game-changing challenge to the core conservative values of the Republican Party.