The Third and Last Advent of Elijah: and the Prophetic Overview of the Day and the Hour 
It began with an act: and actors; to overthrow the Government of the United States, if only symbolically. Thus we were witnessing a

Ritual Coronation

, but it carried real weight: because every man and woman from Congress who was there that day was an accomplice to Treason: the

Active Overthrow

of the Government.
Their concerted act therefore carried the

Weight of their Conviction

, because they

all broke their Oath's of Office to Uphold the Constitution,

and it was done to

basically appoint Rev. Moon as their King.

…if only Symbolically: but it was more than merely symbolic: it

forecast America as the Foundation for the Kingdom of God

…
The

Problem

was that

Moon was the Messenger

in the position of the "

friend of the Bridegroom

": not the

Messiah, or "Bridegroom

" himself: he admittedly then conned himself first and then fooled them all, just as if

John the Baptist

had

pretended Jesus was an impostor

and he was really the

Messiah

instead. 
                                              The Seduction of the GOP and the End of Constitutional Democracy in America 
                       Dennis Hastert and Lindsey Graham present:                                       
 

The Unknown Junta of
the Deep State:
How the KCIA-arranged Coronation of Rev. Moon as the Messiah at the Dirksen Center in Washington DC in 2004 was the End of the Separation of Church and State; Nullifying our Republic and the Rule of Law:
Why did George Herbert Walker Bush and his wife fly around the world and make speeches praising Rev. Moon and his Church?? Why would they take millions of dollars to propagate the narrative that Sun Myung Moon was the Messiah??? Why did Rev. Moon make Neil Bush a "Prince" of the Church??
"We'll know that our disinformation campaign has worked when everything the American public believes is false."

 

— William Casey, 

Ronald Reagan's newly-appointed CIA Director at his first staff meeting, 1981
"It also gives us a very special, secret pleasure to see how unaware the people around us are of what is really happening to them." — Adolf Hitler
The CIA False Flag Domestic Terror Attack
The CIA Terror Attack in Las Vegas on 10-2-2017 is a very good example….
Some have said at the times before Death that ones entire life flashes before ones eyes …. and then comes the collision.
Could the same be said  for America, as we who are Awake now watch our Nation die on it's feet???
THE DEATH OF THE REPUBLIC on LIVE VIDEO: A helicopter Gunship Ends the Illusion of Liberty
The PROOF of the Junta of the Deep State against the Deep South
=============================================================
An Overview of the End of America and the Overthrow of Justice
=============================================================
We have now come to the Tragic End of our Republic that was Orchestrated by the Reagan/Bush/Cheney                    Putsch with the GOP: and we are now Witnesses of the Death of our Democratically Established form of Representational Government in America
Falwell's Savior
Another case of saving a right-wing icon occurred when the Rev. Jerry Falwell was facing financial ruin over the debts piling up at Liberty University.
But the fundamentalist Christian school in Lynchburg, Virginia, got a last-minute bail-out in the mid-1990s ostensibly from two Virginia businessmen, Dan Reber and Jimmy Thomas, who used their non-profit Christian Heritage Foundation to snap up a large chunk of Liberty's debt for $2.5 million, a fraction of its face value.
Falwell rejoiced and called the moment "the greatest single day of financial advantage" in the school's history, even though it was accomplished at the disadvantage of many small true-believing investors who had bought the church construction bonds through a Texas company.
But Falwell's secret benefactor behind the debt purchase was Sun Myung Moon, who was kept in the background partly because of his controversial Biblical interpretations that hold Jesus to have been a failure and because of Moon's alleged brainwashing of thousands of young Americans, often shattering their bonds with their biological families.
Moon had used his tax-exempt Women's Federation for World Peace to funnel $3.5 million to the Reber-Thomas Christian Heritage Foundation, the non-profit that purchased the school's debt. I stumbled onto this Moon-Falwell connection by examining the Internal Revenue Service filings of Moon's front groups.
Jerry Falwell & The Rev. Moon: The Harold & Kumar of right-wing goons
The Women Federation's vice president Susan Fefferman confirmed that the $3.5 million grant had gone to "Mr. Falwell's people" for the benefit of Liberty University. [For more on Moon's funding of the Right, see Robert Parry's Secrecy & Privilege.]
Moon also used the Women's Federation to pay substantial speaking fees to former President George H.W. Bush, who gave talks at Moon-sponsored events. In September 1995, Bush and his wife, Barbara, gave six speeches in Asia for the Women's Federation. In one speech on Sept. 14 to 50,000 Moon supporters in Tokyo, Bush said "what really counts is faith, family and friends."
In summer 1996, Bush was lending his prestige to Moon again.
The former President addressed the Moon-connected Family Federation for World Peace in Washington, an event that gained notoriety when comedian Bill Cosby tried to back out of his contract after learning of Moon's connection. Bush had no such qualms. [Washington Post, July 30, 1996]
In fall 1996, Moon needed the ex-President's help once more. Moon was trying to replicate his Washington Times influence in South America by opening a regional newspaper, Tiempos del Mundo.
But South American journalists were recounting unsavory chapters of Moon's history, including his links to South Korea's intelligence service and various neo-fascist groups.
Some newspaper articles noted that in the early 1980s, Moon had used friendships with the military dictatorships in Argentina and Uruguay – which had been responsible for tens of thousands of political murders – to invest in those two countries. There also were allegations of Moon's links to the region's major drug traffickers.
==========================
#1: Julian Assange Speaks
=======================
"The world is…galloping into a new transnational dystopia.
This development has not been properly recognized outside of national security circles. It has been hidden by secrecy, complexity and scale.
The internet, our greatest tool of emancipation, has been transformed into the most dangerous facilitator of totalitarianism we have ever seen.
The internet is a threat to human civilization. These transformations have come about silently, because those who know what is going on work in the global surveillance industry and have no incentives to speak out.
Left to its own trajectory, within a few years, global civilization will be a postmodern surveillance dystopia, from which escape for all but the most skilled individuals will be impossible. In fact, we may already be there.
While many writers have considered what the internet means for global civilization, they are wrong. They are wrong because they do not have the sense of perspective that direct experience brings.
They are wrong because they have never met the enemy."
==============================================================
Moon's Religious Empire's Plan to Establish a New World Order.
==============================================================
What we are witnessing now did not arrive overnight; it is what one would see in the decades of this hideous slow motion train-wreck, when time itself slows down in the beginning moment of being in an accident; like a high speed train wreck, in that exact moment when you see the accident that you are going to be in: right before impact.
"…In Jin had assumed control of the U.S. church at a precarious moment for Moon's religious empire. Her father had come to the United States from Korea nearly 40 years earlier, aiming to "subjugate" America as the first phase in a plan to establish a new world order.
========================================

The King of the New World Order by Washington DC
=============================
Moon had gone on to amass extraordinary political influence, building a vast network of powerful right-wing organizations and forging alliances with every Republican presidential administration since Ronald Reagan's.
In 2004, he and his wife even staged an elaborate coronation ceremony in the Dirksen Senate Office Building, which at least a dozen lawmakers attended.1 
Republican Roscoe Bartlett bowed down before the couple, and Democrat Danny Davis carried in one of two golden crowns that were placed on their heads.
Moon then informed the audience that "kings and presidents" had declared him "humanity's savior" and that Jesus, Buddha, Hitler, and Stalin had been "reborn as new persons" through his teachings……"
In 1976, Congress began looking into a massive covert KCIA operation designed to sway U.S. policy toward South Korea. The investigation found that the Moon organization was likely a "political tool" of the Korean spy agency and had "systematically violated U.S. tax, immigration, banking, currency and Foreign Agents Registration Act laws."
In retaliation, the church filed a $30 million lawsuit against Representative Donald M. Fraser, who chaired the subcommittee behind the investigation, and launched a brutal—and ultimately successful—campaign to scuttle Fraser's 1978 Senate bid. But despite their efforts, Moon was charged with tax evasion.
A late '70s Gallup Poll found that Moon "elicited one of the most overwhelmingly negative responses ever reported by a major poll," his only rivals being Nikita Khrushchev and Fidel Castro.
====================
==========
In 1980, Moon made more friends in South America when a right-wing alliance of Bolivian military officers and drug dealers organized what became known as the Cocaine Coup. Moon's WACL associates, such as Alfred Candia, coordinated the arrival of some of the paramilitary operatives who assisted in the violent putsch.
Right-wing Argentine intelligence officers mixed with a contingent of young European neo-fascists as they collaborated with Nazi war criminal Barbie in carrying out the bloody coup that overthrew the elected left-of-center government.
Klaus Barbie
The victory put into power a right-wing military dictatorship indebted to the drug lords. Bolivia became South America's first narco-state.
One of the first well-wishers arriving in La Paz to congratulate the new government was Moon's top lieutenant, Bo Hi Pak. The Moon organization published a photo of Pak meeting with the new strongman, General Garcia Meza.
After the visit to the mountainous capital, Pak declared, "I have erected a throne for Father Moon in the world's highest city."
According to later Bolivian government and newspaper reports, a Moon representative invested about $4 million in preparations for the coup.
Bolivia's WACL representatives also played key roles, and CAUSA, one of Moon's anti-communist organizations, listed as members nearly all the leading Bolivian coup-makers.
Soon, Colonel Luis Arce-Gomez, a coup organizer and the cousin of cocaine kingpin Roberto Suarez, went into partnership with big narco-traffickers, including Trafficante's Cuban-American smugglers. Nazi war criminal Barbie and his young neo-fascist followers found new work protecting Bolivia's major cocaine barons and transporting drugs to the border.
"The paramilitary units – conceived by Barbie as a new type of SS – sold themselves to the cocaine barons," German journalist Kai Hermann wrote. "The attraction of fast money in the cocaine trade was stronger than the idea of a national socialist revolution in Latin America."
A month after the coup, General Garcia Meza participated in the Fourth Congress of the Latin American Anti-Communist Confederation, an arm of the World Anti-Communist League.
Also attending that Fourth Congress was WACL president Woo Jae Sung, a leading Moon disciple.
As the drug lords consolidated their power in Bolivia, the Moon organization expanded its presence, too. Hermann reported that in early 1981, war criminal Barbie and Moon leader Thomas Ward were seen together in apparent prayer.
On May 31, 1981, Moon representatives sponsored a CAUSA reception at the Sheraton Hotel's Hall of Freedom in La Paz. Moon's lieutenant Bo Hi Pak and Bolivian strongman Garcia Meza led a prayer for President Reagan's recovery from an assassination attempt.
In his speech, Bo Hi Pak declared,
"God had chosen the Bolivian people in the heart of South America as the ones to conquer communism."
According to a later Bolivian intelligence report, the Moon organization sought to recruit an "armed church" of Bolivians, with about 7,000 Bolivians receiving some paramilitary training.
Moon's Escape
But by late 1981, the cocaine taint of Bolivia's military junta was so deep and the corruption so staggering that U.S.-Bolivian relations were stretched to the breaking point.
"The Moon sect disappeared overnight from Bolivia as clandestinely as they had arrived," Hermann reported.
The Cocaine Coup leaders soon found themselves on the run, too.
Interior Minister Arce-Gomez was eventually extradited to Miami and was sentenced to 30 years in prison for drug trafficking. Drug lord Roberto Suarez got a 15-year prison term. General Garcia Meza became a fugitive from a 30-year sentence imposed on him in Bolivia for abuse of power, corruption and murder.
Ex-Gestapo official Barbie, known as the "butcher of Lyon," was returned to France to face a life sentence for war crimes. He died in 1991.
But Moon's organization suffered few negative repercussions from the Cocaine Coup. By the early 1980s, flush with seemingly unlimited funds, Moon had moved on to promoting himself with the new Republican administration in Washington.
Yet, where Moon got his cash remained one of Washington's deepest mysteries – and one that few U.S. conservatives wanted to solve.
"Some Moonie-watchers even believe that some of the business enterprises are actually covers for drug trafficking," wrote Scott and Jon Lee Anderson.
While Moon's representatives have refused to detail how they've sustained their far-flung activities, Moon's spokesmen have angrily denied recurring allegations about profiteering off illegal trafficking in weapons and drugs.
In a typical response to a gun-running question by the Argentine newspaper, Clarin, Moon's representative Ricardo DeSena responded,
"I deny categorically these accusations and also the barbarities that are said about drugs and brainwashing. Our movement responds to the harmony of the races, nations and religions and proclaims that the family is the school of love." [Clarin, July 7, 1996]
Without doubt, however, Moon's organization has had a long record of association with organized crime figures, including ones implicated in the drug trade. Besides collaborating with leaders of the Japanese yakuza and the Cocaine Coup government of Bolivia, Moon's organization developed close ties with the Honduran military and the Nicaraguan contra movement, both permeated with drug smugglers. [See Robert Parry's Lost History.]
On the Offensive
Moon's organization also used the Washington Times and its political clout in the nation's capital to intimidate or discredit government officials and journalists who tried to investigate Moon-connected criminal activities.
In the mid-1980s, for instance, when journalists and congressional investigators began probing the evidence of contra-drug trafficking, they came under attack from the Times.
An Associated Press story that I co-wrote with Brian Barger about a Miami-based federal probe into gun- and drug-running by the contras was denigrated in an April 11, 1986, front-page Washington Times article with the headline:
"Story on [contra] drug smuggling denounced as political ploy."
When Sen. John Kerry, D-Massachusetts, conducted a Senate probe and uncovered additional evidence of contra-drug trafficking, the Washington Times denounced him, too. The newspaper first published articles depicting Kerry's probe as a wasteful political witch hunt.
"Kerry's anti-contra efforts extensive, expensive, in vain," announced the headline of one Times article on Aug. 13, 1986.
But when Kerry exposed more contra wrongdoing, the Washington Times shifted tactics. In 1987 in front-page articles, it began accusing Kerry's staff of obstructing justice because their investigation was supposedly interfering with Reagan administration efforts to get at the truth.
"Kerry staffers damaged FBI probe," said a Jan. 21, 1987, Times article that opened with the assertion:
"Congressional investigators for Sen. John Kerry severely damaged a federal drug investigation last summer by interfering with a witness while pursuing allegations of drug smuggling by the Nicaraguan resistance, federal law enforcement officials said."
Despite the attacks, Kerry's contra-drug investigation eventually concluded that a number of contra units – both in Costa Rica and Honduras – were implicated in the cocaine trade.
"It is clear that individuals who provided support for the contras were involved in drug trafficking, the supply network of the contras was used by drug trafficking organizations, and elements of the contras themselves knowingly received financial and material assistance from drug traffickers," Kerry's investigation stated in a report issued April 13, 1989.
"In each case, one or another agency of the U.S. government had information regarding the involvement either while it was occurring or immediately thereafter."
Kerry's investigation also found that Honduras had become an important way station for cocaine shipments heading north during the contra war.
"Elements of the Honduran military were involved … in the protection of drug traffickers from 1980 on," the report said.
"These activities were reported to appropriate U.S. government officials throughout the period.
"Instead of moving decisively to close down the drug trafficking by stepping up the DEA presence in the country and using the foreign assistance the United States was extending to the Hondurans as a lever, the United States closed the DEA office in Tegucigalpa and appears to have ignored the issue."
The Kerry investigation represented an indirect challenge to Vice President George H.W. Bush, who had been named by President Reagan to head the South Florida Task Force for interdicting the flow of drugs into the United States and was later put in charge of the National Narcotics Border Interdiction System.
In short, Vice President Bush was the lead official in the U.S. government to cope with the drug trade, which he himself had dubbed a national security threat.
If the American voters came to believe that Bush had compromised his anti-drug responsibilities to protect the image of the Nicaraguan contras and other rightists in Central America, that judgment could have threatened the political future of Bush and his politically ambitious family.
By publicly challenging press and congressional investigations of this touchy subject, the Washington Times helped keep an unfavorable media spotlight from swinging in the direction of the Vice President – and bought some cover for Moon's drug-connected right-wing allies, too.
Mounting Evidence
The resistance of the Reagan and the first Bush administrations prevented anything like a complete story of the contra-drug scandal from emerging in a timely fashion.
However, the evidence – eventually assembled by investigators at the CIA, the Justice Department and other federal agencies – now indicates that Bolivia's Cocaine Coup operatives were only the first in a line of clever drug smugglers who tried to squeeze under the protective umbrella of Reagan's favorite covert operation, the contra war.
Other cocaine smugglers soon followed, sharing some of their drug profits with the contras as a way to minimize investigative interest by the Reagan-Bush law enforcement agencies.
Based on official investigations, we now know that the contra-connected smugglers included Bolivians, the Medellin cartel, Panama's government of Manuel Noriega, the Honduran military, the Honduran-Mexican smuggling ring of Ramon Matta Ballesteros, and the Miami-based anti-Castro Cubans with their connections to Mafia operations throughout the United States.
In some cases, U.S. intelligence officials bent over backwards not to take timely notice of contra-connected drug trafficking out of fear that fuller investigations would embarrass the contras and their patrons in the Reagan-Bush administrations.
For instance, on Oct. 22, 1982, a cable written by the CIA's Directorate of Operations stated,
"There are indications of links between [a U.S. religious organization] and two Nicaraguan counter-revolutionary groups. These links involve an exchange in [the United States] of narcotics for arms."
The cable added that the participants were planning a meeting in Costa Rica for such a deal. When the cable arrived, senior CIA officials were concerned. On Oct. 27, CIA headquarters asked for more information from a U.S. law enforcement agency.
The law enforcement agency expanded on its report by telling the CIA that representatives of the contra FDN and another contra force, the UDN, would be meeting with several unidentified U.S. citizens. But then, the CIA reversed itself, deciding that it wanted no more information on the grounds that U.S. citizens were involved.
"In light of the apparent participation of U.S. persons throughout, agree you should not pursue the matter further," CIA headquarters wrote on Nov. 3, 1982. Two weeks later, after discouraging additional investigation, CIA headquarters suggested it might be necessary to label the allegations of a guns-for-drugs deal as "misinformation."
The CIA's Latin American Division, however, responded on Nov. 18, 1982, that several contra officials had gone to San Francisco for the meetings with supporters, presumably as part of the same guns-for-drugs deal. But CIA inspector general Frederick Hitz – when he investigated in the mid-to-late 1990s – found no additional information about that deal in CIA files.
Also, by keeping the names of the participants censored when the documents finally were released in 1998, the CIA prevented outside investigators from examining whether the "U.S. religious organization" had any affiliation with Moon's network of quasi-religious groups, which were assisting the contras at that time.
=========================================
The Washington Times and Reagan's Deal
with Rev. Moon and the CIA 
=========================================
                                                                      The Black Rat Snake in Washington Times newsroom.
( This excerpt is of an article reprinted from Consortium News by Robert Parry on May 2nd. 2010 )
As an investigative journalist, I'm not much for catchy political metaphors, but the revelation that snakes and rodents are infesting the Washington Times building as the Rev. Sun Myung Moon's newspaper sinks into a financial swamp does have some poetic justice about it.
After all, for 28 years, the right-wing Washington Times has sent disinformation slithering through the U.S. political system while creating a nest for propagandists who have befouled American democracy with irrationality and dirty tricks.
Indeed, one could say that Moon's newspaper pioneered the modern style of deceptive "journalism" that is the daily fare on Fox News, angry talk radio and right-wing blogs.
Four things led us to this Abyss of our Nation's Destruction:
1.) … The Patriot Act after the Bush / Cheney Coup of 9/11 in 2001, as the first Victory of the Deep State, in which Absolute Power was given to the Executive Branch, by which our Republics's Constitutional form of Government was nullified
2. ) … The Supreme Court and Judge Scalia's legalizing of Graft, as the second Victory of the Deep State called "Citizens United", seen in the wholesale purchase of Congress by the Koch Brothers and Goldman Sachs.
3.) … The Supreme Court and Judge Scalia's legalizing of Institutional Racism in the South as the third Victory of the Deep State: seen in the Gutting of  the Voting Rights Act, by which Federal Oversight was Removed from the South
4.) … The End of the Fourth Estate in the slow CIA Takeover of Mass Media by a Monopoly, as the fourth Victory of the Deep State, which Ended Free Speech at the National Level, and voided the 1st Amendment: which destroyed the established Free Press as the Voice of the People and the Guardian of American Liberty.
The problem now is the quandary we have without a real National Free Press is that we don't have an operating and functional Fourth Estate, and thus no real Free Speech: because our voice…the voice of truth: the voice of the people…"Vox Populi" is being completely suppressed. Witness how so many stories of National Import are now censored and never addressed in public, thus ending any chance of redress, because there is no longer a National Discourse which has any relationship to the Truth
But let us look at how we got to this point in the story of America's fall: a hell bound descent into a Southern Evangelical theocracy openly supported a corporately sponsored Korean dictatorship with Rev. Moon as it's Savior.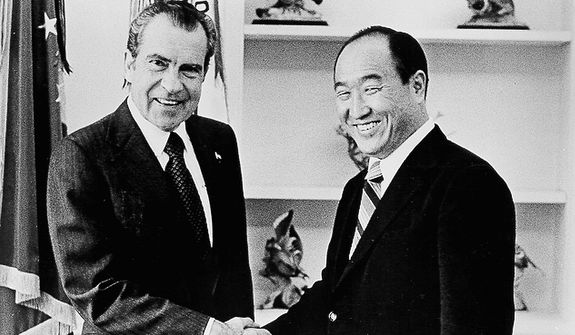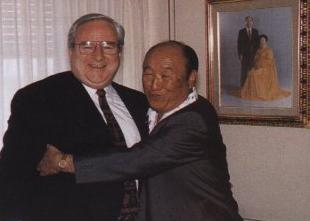 The End of the Separation of Church and State with the GOP's betrayal of the Constitution 
Prophetically accurate to the extreme; but ignored even now by many in politics who are in total steadfast denial:                                                                              yet his pronouncement rings true; and the peril of our Nation's Ending is now Here Manifest
"Man and fascism cannot co-exist. If fascism conquers, man will cease to exist and there will remain only man-like creatures that have undergone an internal transformation. But if man, who is endowed with reason and kindness, should conquer, then Fascism must perish, and those who have submitted to it will once again become people." 
Why Did the GOP and Lindsey Graham Crown Rev. Moon as the Messiah in the Dirksen Center and Violate the Constitution's Article 9 which forbids the Giving out of Titles of Nobility
???
For those who were there on March 13th, 2004, at the Dirksen Senate Office Building, saw the opening ceremony, with a rabbi blowing a ram's horn, the shofar….
"…….Most Jews would hold off on this until the High Holy Days, but it probably counts if the Moshiach shows up in a federal office building at taxpayer expense. Then we see the man of the hour, Moon, chilling at a table at the Dirksen in a tuxedo, soaking all this up. He claps. He's having a ball.
Cut to the ritual. Eyes downcast, a man identified as Congressman Danny K. Davis (D-Ill.) is bringing a crown, atop a velvety purple cushion, to a figure who stands waiting austerely with his wife. Now Moon is wearing robes that Louis XIV would have appreciated. All of this has quickly been spliced into a promo reel by Moon's movement, which implies to its followers that the U.S. Congress itself has crowned the Washington Times owner….."
The Breaking of the Bond of Integrity: the Corruption of the Senate
"……But Section 9 of the Constitution  forbids giving out titles of nobility,
setting a certain tone that might have made the Congressional hosts
shy about celebrating the coronation on their websites…."
They included conservatives,
the traditional fans of Moon's newspaper:
Sen. Lindsey Graham (R-S.C.),
Rep. Curt Weldon (R-PA.),
Rep. Chris Cannon (R-Utah),
Rep. Roscoe Bartlett (R-Md.)
and Republican strategy god Charlie Black,
whose PR firm represents Ahmed Chalabi's Iraqi National Congress……"
For those who think the Democrats were virgins                                                            in this matter I sadly point out this:
"………But there were also liberal House Democrats like Sanford Bishop (D-Ga.) and Davis. Rep. Harold Ford (D-Tenn.) later told the Memphis Flyer that he'd been erroneously listed on the program, but had never heard of the event, which was sponsored by the Washington Times Foundation.  ( Now run by my "almost an acquaintance" Larry Moffitt ) 
Rep. Curt Weldon's office tenaciously denied that the Congressman was there, before being provided by The Gadflyer with a photo that quite accurate showed him to be there at the behest of the Washington Times with President Larry Moffitt as it's host, then said they were indeed there,  "…but we have nothing to do with the agenda, the organization, the scheduling, and our role would be limited explicitly to the attendance of the Congressman….."
Heavenly Deception Strikes Again
"…….The spokeswoman for one senator, who asked that her boss not be named, said politicians weren't told the awards program was going to be a Moon event.
The senator went, she said, because the Ambassadors promised to hand out awards to people from his home state, people who were genuinely accomplished. When the ceremony morphed into a platform for Moon, she said, people were disconcerted.
"I think there was a mass exodus," she said.
"They get all these senators on the floor, and this freak is there."

Bernie Sanders and the Gospel of my Father Jesus:
Matthew 25:31-46 

King James Version 
31 When the Son of man shall come in his glory, and all the holy angels with him, then shall he sit upon the throne of his glory:
32 And before him shall be gathered all nations: and he shall separate them one from another, as a shepherd divideth his sheep from the goats:
33 And he shall set the sheep on his right hand, but the goats on the left.
34 Then shall the King say unto them on his right hand,
"…Come, ye blessed of my Father, inherit the kingdom prepared for you from the foundation of the world:
35 For I was an hungered, and ye gave me meat: I was thirsty, and ye gave me drink: I was a stranger, and ye took me in:
36 Naked, and ye clothed me: I was sick, and ye visited me: I was in prison, and ye came unto me.
37 Then shall the righteous answer him, saying,
"…Lord, when saw we thee an hungred, and fed thee? or thirsty, and gave thee drink?
38 When saw we thee a stranger, and took thee in? or naked, and clothed thee?
39 Or when saw we thee sick, or in prison, and came unto thee?…"
40 And the King shall answer and say unto them,
"…Verily I say unto you, Inasmuch as ye have done it unto one of the least of these my brethren,
ye have done it unto me…."
41 Then shall he say also unto them on the left hand,
"…Depart from me, ye cursed, into everlasting fire, prepared for the devil and his angels:
42 For I was an hungered, and ye gave me no meat: I was thirsty, and ye gave me no drink:
43 I was a stranger, and ye took me not in: naked, and ye clothed me not: sick, and in prison, and ye visited me not...."
44 Then shall they also answer him, saying, Lord, when saw we thee an hungered, or athirst, or a stranger, or naked, or sick, or in prison, and did not minister unto thee?
45 Then shall he answer them, saying,
"….Verily I say unto you, Inasmuch as ye did it not to one of the least of these, ye did it not to me….."
46 And these shall go away into everlasting punishment: but the righteous into life eternal.
A Comparison
Over the last few years I have watched as the Independent Senator Bernie Sanders from Vermont has been viciously attacked, his personal beliefs and spiritual concerns questioned and denigrated; as well as hearing him be described by Alex Jones and others like Thomas Hartmann as a "crazy communist", or an amoral and ideologically bankrupt Marxist Jew who wants; in the mocking venomous words of Hillary Clinton; "…to give everyone a free pony..", all because he dares to state that America should give healthcare to all of it's people as a human right; just like every other developed and industrialized nation on earth already does.
During his presidential run in 2016 I watched in horror as Sanders character was continually smeared by the bought-and-paid-for Establishment Press as worthless, and others of the dead-on-it's-feet National Enquirer school of Rabid Yellow Journalism as witless; that is all that remains of the Fourth Estate now almost totally defunct in America, due to its incremental silent takeover by the CIA, ( with an able assist by President Bill Clinton ), and put straight into the corrupt hands of 6 men cravenly bent on subverting free speech as plutocratic betrayers of the Public Trust and treasonous Guardians of the Public Weal, abandoning all principle to uphold as sacred all that was established in the 1st Amendment; as the craven and corporatist owners of virtually all Media and it's outlets in the US.
The Real Issues
"And

 Jesus 

went into the temple of God, and cast out all them that sold and bought in the temple, and overthrew the tables of the moneychangers, and the seats of them that sold doves, And said unto them,

"It is written,

'

My house shall be called the house of prayer

';

but ye have made it a den of thieves.

"  Matthew 21:12-13
The Banks
1.) … Jesus                                                                                                                
"

….One cannot serve both God and Mammon…"  

                                    
"…Verily I say unto you, that a Rich Man will hardly enter

the Kingdom of Heaven…"

                                                                                                                         
1.) … Bernie
"…If a bank is to to big to fail: it is too big to exist.."…The greed of the 1% seems unlimited: but enough is ENOUGH!! It is time to tell the millionaires and billionaires "

…You can't have it ALL..!!!.

.."
Healthcare
2.) … Jesus                                                                                                                   
"…I was sick, and ye visited ( treated) me.."                                                

                                                               
2.) … Bernie
"…It is time we joined the rest of the

 

civilized nations of the earth and made free healthcare a basic human right…"
Prison
3.) … Jesus                                                                                                                   
"…I was in prison, and ye came unto me…"                                                  

                                                            
3.) … Bernie
"…The tragedy of our country is that we have more people in prison than any other nation on earth. The prison-for-profit industry is a morally bankrupt policy: we should be building more schools and libraries, but we are doing exactly the opposite.."
Poverty
 4.) … Jesus                                                                                                                  
"….I was naked, and ye clothed me…"                                                            

                                                   
4.) … Bernie
"…It is high time time we raised the minimum wage  from a starvation wage of $7.25 an hour to a living wage of $15.00 an hour. No one who works 40 hours a week in American should be living in poverty…"

                                                                                                                                      
Hunger
5.) … Jesus                                                                                                               
"…For I was hungered, and ye fed me…"                                                                                                        
5.) … Bernie
 "..It is incomprehensible that in the richest nation on earth we have 40 million children who do not get enough to eat. We need to expand the foodstamp programs for the unemployed and underemployed, not cut them, because no child in this nation should go to bed hungry…"                                                                                                                                                                                          

 
Immigration Reform

                                                                                                   
6.) … 

Jesus

                                                                                                                                   

 
"..I was a stranger, and ye took me in…"

 

 
6.) … Bernie
"…America was built by immigrants seek who came to America to seek the promise of a better life: that is the promise of this great country, and we should be building bridges; not walls…"  

                                                                                             

 
Water

                                                               

                   

                            
7.) …

Jesus

                                                                                                                                                      
"….I was thirsty, and ye gave me drink…"  

 
7.)

 

… Bernie

             
"…The Fracking that poisons our groundwater  should be banned: period. The wisdom of our Native Americans teaches us that "Water is life", and that we all should have clean water to drink,  pure air to breath, and uncontaminated earth to grow our food…"

 

                                                                                                                                                          
Dr. Pieczenik and his Protege: Doing the Devil's Work
Witness Alex Jones Declaring that 
Bernie Sanders is "just like Mao" ???

 
The Right Wing Declaring 

Bernie Sanders is a Nazi??
"….A Texas lawmaker under fire for suggesting Sen. Bernie Sanders (I-VT) was linked to German Nazism admitted Thursday that there was no connection — but then associated the Democratic presidential candidate with a communist mass murderer…"  (

…..

.

as being the next

 

Josef Stalin!!!

)
Alex Jones Smearing Bernie as a"Crazy Communist"
….Just like Hitler ???
The Real Kingdom of God,
FDR;
and the Resurrection of the Just
"….The worship of the golden calf of old has found a new and heartless image
in the cult of money and the dictatorship of an economy
which is faceless and lacking any truly human goal…"
Pope Francis
Alex Jones and the Neo Nazis of Steve Pieczenik
+++++++++++++++++
 Alex Jones is Really a Right Wing Neo Fascist Creation of Dr. Steve Pieczenik….
++++++++++++++++++
Why Did They Take It Out Of Context??? 
+++++
Bernie Sanders and the Gospel of my Father Jesus:
FDR and Bernie on the Same Page
FDR's proposed second Bill of Rights that was filmed after he delivered his State of the Union Address via radio on January 11, 1944.
That FDR wanted to establish and give us these four basic rights shows what was supposed to come later on with Bernie Sanders, who then walked forward in the shoes of Dr. King, in setting up these Four Universal Rights in what would have become the foundation for saving not just America, but the entire world.
By passing these four amendments to the Constitution by all 50 states here in America as Bernie Sanders is planning, or as close to unanimous as it can get, America will set up the condition to remove the fallen nature at the Universal Level ( as of "the Kingdom of Heaven and Earth" ), having already been able to accomplish it at the global level with Bernie Sanders still standing, and even now still remaining vigilant at the altar of Elijah, we paid the indemnification of Justice Restored by denying her Highness Queen Jezebel/ Madame Hillary we fed all the people to be filled with Righteousness, for having not voted for Hillary Clinton on Principle, even though that guaranteed the Ascension of Donald Trump to the Presidency, and made us as a Nation endure great tribulation and suffering by Trump.
President Trump is the Image of the Beast that CNN created to be Hillary's Paper Tiger, but who now stands as the American Kaiser for the Second Civil War of Dr. Pieczenik's Neo Confederacy, the Dream of the late Senators Robert Byrd and Jesse Helms, as the establishment of the now Imperial White Supremacist House of Trump and the KKK, with their point man Steve Bannon recently  fired from his position as the National Security Adviser of Donald Trump; as having been the Official Ideological Enforcer of National Racism and the Aryan philosophy of White Supremacy
He lost his job at the White House due to the debacle of how he orchestrated the Trump-fest of the Neo Nazis at Charlottesville, Virginia.
America now being directly under attack by Satan with the Economic Dictatorship of the Corporate Fascists s quite obvious
But Sanders in his Cry for Justice resonating across America that has now brought us the shared condition of indemnity in 2018 by which we might at this point reverse the entire process: namely with Strength through Diversity ("Out of Many: One") as our United National Sacrifice of Blood, Sweat, and Tears, set into motion by My Generation and put forward  by their Spiritual Progeny the Millennials; to thus win the battle in 2020, thus setting up the Foundation of Salvation in America for the Great Work Accomplished, or "Standard Become", to manifest Global Salvation at the Cosmic Level, setting up the final Victory with the Return of my Father Jesus, who will then Initiate the Creation of a New Heaven and a New Earth
==========================
Speaking at Liberty University today, Sept 14th 2015
==========================
"….I am not a theologian, I am not an expert on the Bible, nor am I a Catholic. I am just a United States senator from the small state of Vermont. But I agree with Pope Francis, who will soon be coming to visit us in the United States.
I agree with Pope Francis when he says, and I quote,
"The current financial crisis originated in a profound human crisis, the denial of the primacy of the human person," and this is what he writes: "We have created new idols. The worship of the ancient golden calf has returned in a new and ruthless guise in the idolatry of money and the dictatorship of an impersonal economy lacking a truly human purpose," end of quote.
And the pope also writes, quote,
"There is a need for financial reform along ethical lines that would produce in its turn an economic reform to benefit everyone. Money has to serve, not to rule," end of quote.
Now those are pretty profound words, which I hope we will all think about. In the pope's view, and I agree with him, we are living in a nation and in a world, and the Bible speaks to this issue, in a nation and in a world which worships not love of brothers and sisters, not love of the poor and the sick, but worships the acquisition of money and great wealth. I do not believe that is the country we should be living in.
Money and wealth should serve the people. The people should not have to serve money and wealth. (APPLAUSE)….."
+++++++++++
Jim the Evangelist bears Witness from that Night
Hi my name is Jim. I am the guy who recently posted onto Reddit under the Sanders4President Subreddit that I'm a Liberty University Alumni, and that I support Bernie, and think that he's a good spokesman for justice.
I thought I would take a second to, sort of, unpack that, because I could tell there's a lot of people, both Evangelical conservative folk and more liberal Bernie-supporting folk, who are very confused that I could occupy both worlds. So, I thought, I'll take a few seconds and explain myself, and maybe that will be helpful for the conversation.
So a little bit about me. I am not a current student at Liberty. If I was, I actually wouldn't have been able to post onto that Reddit board and say that I'm supporting Bernie. There is an Honor Code at Liberty University, and while it's not always enforced, if you support a candidate who is pro-choice or pro-gay marriage, you can be punished by the University, up to and including expulsion from the school. So as a graduate of Liberty University, I'm in a good position to represent folks that might go there and people from the Evangelical tradition, but not be within the world that they can, you know, punish me for my opinion.
So I got my Bachelors degree in Religion from Liberty University, and I also got my Masters degree from Liberty University in Marriage and Family Therapy. In 2004 I worked for the George W. Bush campaign. I spent about 8 years as a Conservative pastor. And also as a schoolteacher at a conservative Christian academy. And today I serve my community as a therapist and also a pastoral counselor, somebody that folks from churches might go see to get counseling whenever they want to see somebody who's both a clinical counselor but also a pastor.
So I serve all those roles. I think I'm pretty much a card-carrying Evangelical Christian. I still subscribe to a conservative evangelical theology. And what that means, a lot of people get confused when they hear the word 'conservative,' they assume you mean politically. 'Conservative theology' means that I believe the Bible is trustworthy, I think that God inspired it, Jesus was absolutely real, and really died on the cross, and really did resurrect three days later; and I am an Evangelical Christian in that way.
So, how did I come to find myself supporting Bernie Sanders? How did that evolution take place? How could it be that in 2004 I was working for the George W. Bush campaign, and today in 2015, as a double Liberty University graduate, under Jerry Falwell—when I went to school, Jerry Falwell was the Chancellor—how is it that I could be now supporting Bernie Sanders, who's a very progressive, very liberal guy; he describes himself as a 'democratic socialist.' How do I find common ground on those two things?
Well a lot of people I think falsely believe that in order to do that you have to give up one of your sides. Either you have to not really be a progressive, and you're just an Evangelical who just likes Bernie, or you have to not really be an Evangelical, and just secretly be a Progressive who's faking it and pretending to be an Evangelical, but wouldn't actually pass the litmus test of being an Evangelical.
I pass both tests, I am very much 100% legitimate in both camps, and I want to explain why that's not a mythological thing, that's not a disconnect. Some people call that a contradiction, or hypocrisy, it is absolutely not. I believe that my views are 100% consistent. And so I think that the shock value for that comes in beginning to appreciate that the Bible and Jesus, in my opinion and in my very moderate reading of the Bible and the words of Christ, leads us to a Progressive worldview.
And that is shocking to a lot of people, especially folks back home in the Evangelical community, they hear that and go, "What are you talking about? That's heresy—"… it's like, hold on. Hear me out. There is a Biblical argument for voting for Bernie Sanders, believe it or not, and I'm gonna walk you through it really quick on some key issues.
So that first issue that I'd kind of point your attention to is kind of what Bernie brought up during his speech at Liberty. Basically, the wealth inequality problem—and see a lot of us, on the Evangelical side think that what Jesus really cares about is gay marriage and abortion. And of course, the great irony is if you read the red letters of Jesus, there are no statements on abortion. There are no statements on gay marriage. Now, that's not to say the Bible doesn't speak about these things, but it certainly is to say that Jesus, founder and master of our faith, did not see fit to make these high-priority topics. It's not to say he doesn't care. But it is to say that we need to be careful not to 'major on minors.' We should be focused on the things Jesus did talk about.
So what did Jesus talk about?
So here's the interesting thing. When I was watching Bernie Sanders talk at Liberty University, I was just really shocked, and something kind of magical happened for me, because as I watched that guy stand up on that stage, here's what I saw. I saw a wild-haired Jew crying out in a hoarse voice, in a very forceful and forth-speaking way, he was convicting the Christian leaders and religious leaders in that University and calling us out for being complicit in the abandonment of those who suffer:
"The

least

of these."
And siding with the powerful and the rich and the masters of this world.
And he was convicting us, and calling us out. And we scorned him, and we stared him down, and with sour faces we thought, "Who is this whacko? And why do all these people seem to follow him, seem to like him? This wild-haired Jew, crying out from the wilderness of the political Left, in his hoarse voice?"
And if you're an Evangelical listening to me today, you already know where I'm going with this. When I heard Bernie speaking in that way, when I saw that guy on stage at Liberty University, I saw John the Baptist.
I saw the wild-haired, roughly-clothed

John the Baptist

, eating honey and wearing camel's hair, and crying out to the religious leaders, the

Pharisees

of his day, calling them corrupt and complicit with those who have all the power and all the money and all the wealth, and for

abandoning the people that God loves

, that

God cares about

. For the

Pharisees,

who were siding with those who

already have power and wealth

and saying that

they will be the last in the Kingdom of God

, and that the weak, and the meek, and the simple, and those who need help—

they are first in the Kingdom of God

.
And I saw that guy, that John the Baptist figure, who is standing up and saying
"There is coming a messenger, there is coming a messenger who will bring equity and justice to the poor, and to the weak, and who will stand for 'the least of these.'"
That's the wild-haired Jew that I saw up on that stage. I saw, and felt, the same voice coming from the Bible when I read about John the Baptist, who cried out in the desert to the Pharisees, warning them that Jesus was coming, the messenger of God. And that he was coming to restore justice, to proclaim the year of the Lord's favor, and to value 'the least of these' when the Pharisees had failed.
And as I heard Bernie talking, and as I listened to his cries for justice, I remembered, suddenly, what Jesus had actually said in the Book of Luke, when he unravels the scroll in the synagogue, and he quotes the Book of Isaiah, which says that the Son of God was coming. And then he says, "This has been fulfilled in your presence here today." He quotes the book of Isaiah which says that the Son of God is coming to bring justice, and Jesus says "it is now come to pass in your presence." And he says, "I have come to bring Gospel to the poor."
Gospel—is that word we Evangelical Christians have based everything on. Gospel means 'good news.' And Jesus said "I have come to bring good news to the poor." To restore sight to the blind, to stand with the suffering, to set the captives free, and to proclaim the year of the Lord's favor.
Whoa.
As I heard Bernie Sanders crying out to the religious leaders at Liberty University, in his hoarse voice, with his wild hair, this Jew, and he proclaimed justice over us. He called us to account for being complicit with those who are wealthy and those who are powerful and for abandoning the poor, 'the least of these' who Jesus said he had come to bring good news to.
And in that moment, something occurred to me, as I saw Bernie Sanders up there, as I watched him I realized: Bernie Sanders, for President, is good news for the poor. Bernie Sanders for President is good news for the poor. Bernie Sanders is Gospel for the poor.
And Jesus said, "I have come to bring Gospel—good news—to the poor."
And lightning hit my heart in that moment. And I realized that we are Evangelical Christians, that we believe the Bible. We believe in Jesus. We absolutely shun those who attempt to find nuance and twisted and tortured interpretation of scripture that they would use to master all other broader interpretations, to find some kind of big message that they want to flout. We absolutely scorn such things.
And yet somehow, we commit to the mental gymnastics necessary that allows us to abandon 'the least of these,' to abandon the poor, to abandon the immigrants, to abandon those who are in prison.
I listened to Bernie Sanders, as he said he wanted to welcome the immigrants and give them dignity. As he said he wanted to care for the sick children, and mothers, and fathers, who do not have health care. As he said he wanted to decrease the amount of human beings who are corralled like cattle in the prisons. As he said he wanted to do justice for those who have nothing and live homeless.
And I remembered the words of Jesus, who warned his disciples that there will be judgment, and on that day he will look to his friends, and he will say 'Blessed are you, for you cared for me, for I was naked and you clothed me; I was sick, and you cared for me; I was hungry, and you fed me; I was thirsty and you gave me something to drink; I was in prison, and you came to visit me; I was homeless, and you gave me shelter." And the disciples said, "Jesus, when did we do any of those things for you?"
And he said, "If you have done it for 'the least of these,' you have done it for me."
And those words echoed in my heart. As I listened to that crazy, hoarse-voiced, wild-haired Jew, standing in front of the religious leaders of the Evangelical movement, calling us to account, as a Jew once did before. Telling us that he intends to care for 'the least of these.' To clothe the naked, to shelter the homeless, to care for the sick, to set the prisoners free.
Yes. I am an Evangelical Christian. I believe in the Bible. I follow Jesus. When I look at Bernie Sanders, and I hear the things that he's saying, it's like he's ripping them out of the pages of scripture. I would have to try to avoid the meaning of those words. I would have to bury my head in the sand to continue to support conservative policies. I am religiously conservative but I am not politically so. And I think here is the heart and soul of it:
When we chose to follow Jesus, we decided that the Kingdom of God, and the men and women and children of this world, were more important than us. And that accidentally made us all liberals. The day we decided to follow Christ, and the day we decided that we value other human beings more than ourselves, we accidentally became liberals.
And so there is no contradiction between being a Bible-believing Christian and a Bernie Sanders supporter.
I follow the teachings of Christ: to care for 'the least of these.'
And I believe that just as John the Baptist once cried out in the desert for justice, and called the religious establishment to account, and hearkened unto the day that Jesus would walk among us, and declare equity and justice and good news for the poor; and just as that day came, that Jesus stood in front of the multitudes at the religious institution and said "I have come to bring gospel to the poor," I believe that Bernie Sanders now stands in front of us, wild-haired and hoarse-voiced, and he now declares justice for the poor. He declares good news for 'the least of these.'
He has come to bring gospel. And I wouldn't be much of a Christian if I didn't stand on the side of gospel for the poor. Because the last time I checked, that's where my master Jesus stood, and I'll stand with him. And for now, that means I stand with Bernie Sanders.
+++++++++++++
The Vicar of Christ
and his
 

Call To Arms
========================
Here's the core message driving Pope Francis's global revolution to save the world from "the dung of the devil," out-of-control capitalism which will play well when he addresses Congress this month.
So it's time for Congress to listen closely to the man in the white suit:
1. Capitalists … are new worshipers of the biblical golden

calf
Pope: "Money must serve, not rule, yet we calmly accept its control over us. Money originated in a profound human crisis, the denial of the primacy of the human person. The worship of the ancient golden calf has returned in a new and ruthless guise in the idolatry of money."
2. Invisible hand of God … replaced by greedy hands of capitalism
Pope: "Never trust in the so-called 'invisible hand' of the markets and economic remedies like cutting workers to increase their profits. The world needs a better distribution of income."
3. New Tyranny … capitalists are destroying democracy worldwide
Pope: "Ideologies increase the wealth of a minority exponentially, increasing the inequality gap, separating the most humans from the prosperity enjoyed by those happy few. A new tyranny is thus born, unilaterally and relentlessly imposing its own laws and rules."
4. Trickle-down economics … is a total capitalist disaster
Pope: "Free market trickle-down economics causes injustice. A naïve trust in the culture of prosperity and those wielding economic power deadens society."
5. Inequality … is the root cause of all 'social ills' in the world
Pope: "Inequality is the root of social ills. Help the poor, reject markets and speculation, attack the structural causes of inequality, or you will never solve the world's problems."
6. Consumerism … is out-of-control, destroying family/social values
Pope: "Today's economics promotes inordinate consumption, increases inequality, damages the social fabric, increases violence and serious conflicts. Blaming the poor and poorer countries for their troubles is misplaced, solve the corruption spreading at the top."
7. Competition … capitalist addiction to profits is killing morality
Pope: "The laws of capitalist competition, the survival of the fittest rule. The powerful feed upon the powerless, the vast majority are marginalized: No work, No opportunities. No escape. News is a two-point loss in stocks, but not the death of elderly homeless?"
8. Conservatism … encourages free destruction of natural resources
Pope: "In a world where everyone has their own subjective truth, citizens cannot develop common solutions that transcend personal ambitions. We need a new way of living and thinking that's more humane and noble, that brings dignity to all humans on this earth."
9. Exploitation … treating humans as mere economic commodities is sin
Pope: "Yes, humans are now consumer goods, used then discarded in our widespread throwaway culture. It is no longer about oppression and exploitation. Today, the excluded ones are no longer society's underside, no longer even a part of it, but outcasts, leftovers."
10. Capitalism has lost its moral compass, turned its back on God
Pope: "Behind capitalist economics lurks a rejection of ethics and God that debases humans. This lack of morality and ethics results in God calling for solutions outside marketplace economics, to make it possible for a more balanced and humane social order."
Bottom line:
Pope Francis is now the world's moral conscience, as well as leader of a new peoples revolution. Francis is seen by billions worldwide as a revival of the moral values missing in today's world because of our obsessive consumerism, self-centered wealth-building, and an out-of-control capitalist ideology with no moral conscience … so Rush isn't the only conservative going bonkers … because Pope Francis's new commandments really are an historic game-changing challenge to the core conservative values if the Republican Party.
A New Day Arises; The Pope and the Immorality of "Cardboard Christians"
VATICAN CITY (AP) — Pope Francis is insisting that his concern for the poor and critique of the global economic system isn't some novel, communist-inspired ideology but rather the original and core "touchstone" of the Christian faith.
Some U.S. conservatives have branded the first Latin American pope a Marxist for his frequent critiques of consumerism and focus on a church "that is poor and for the poor." But in an interview contained in a new book, Francis explains that his message is rooted in the Gospel and has been echoed by church fathers since Christianity's first centuries.
"The Gospel does not condemn the wealthy, but the idolatry of wealth, the idolatry that makes people indifferent to the call of the poor," Francis says in "

This Economy Kills

," a study of the pope's economic and social teachings, excerpts of which were provided Sunday to The Associated Press.
Specifically, Francis summarized a verse from the Gospel of Matthew which is the essential mission statement of his papacy:
"I was hungry, I was thirsty, I was in prison, I was sick, I was naked and you helped me, clothed me, visited me, took care of me."
"Caring for our neighbor, for those who are poor, who suffer in body and soul, for those who are in need: this is the touchstone.
…….    Is it pauperism? No.
It is

the

Gospel

……."
He cites church fathers dating to St. Ambrose and St. John Chrysostom as expressing the same concerns, and noted somewhat wryly that if he had said the same "some would

accuse me

of giving a Marxist homily."
"As we can see, this concern for the poor is in the Gospel, it is within the tradition of the church, it is not an invention of communism and it must not be turned into some ideology, as has sometimes happened before in the course of history," an apparent reference to the Latin American-inspired liberation theology.
"This Economy Kills," by two seasoned Vatican reporters, comes out this week in Italian
Right-wing, anti-Muslim "Christians" love Pope Francis' strong message against ISIS and religious extremism.
Alas, they

missed

his point entirely.
Raw Story reports that on day one of Pope Francis' tour in Turkey, His Holiness sharply condemned ISIS' "barbaric violence" against Christians and other non-Muslim minorities, and denounced those who use religion as an excuse to violate human rights:
"As religious leaders, we are obliged to denounce all violations against human dignity and human rights… As such, any violence which seeks religious justification warrants the strongest condemnation because the Omnipotent is the God of life and peace."
The Blaze adds that that while Pope Francis urges leaders to explore a peace process through interfaith dialog, he also cautiously supports using force against ISIS.
Francis sought to offer a balanced message as he met with Turkish political and religious officials at the start of his second trip to the Middle East this year. He reaffirmed that military force was justified to halt the Islamic State group's advance, and called for greater dialogue between Christians, Muslims and people of all faiths to end fundamentalism. (As narrow "literalism" )

And — NOTE TO THE US – Pope Francis adamantly opposes unilateral force:

Too many times, Francis said, countries have used the "excuse of stopping the unjust aggressor" to launch a "true war of conquest." He adds, "One single nation cannot judge how you stop this, how you stop an unjust aggressor."

Furthermore — unlike America's right-wing Christians — Pope Francis does not see all Muslims as extremists and potential terrorists. In fact, Al Jazeera reports he even went to pray at the Blue Mosque in Istanbul, Turkey's capitol city.

Francis stood on Saturday morning with his head bowed and hands clasped in front of him in a two minutes of silent prayer inside the 17th-century Sultan Ahmet mosque, aiming to show respect for Islam and encourage stronger ties between the two faiths.

"May God accept it," Rahmi Yaran, the Grand Mufti of Istanbul told the pope at the end of the prayer.

And here in America, some right-wing "Christians" actually do understand that Pope Francis' anti-ISIS message is more nuanced. They just don't like it, as they let their followers know on Twitter.
======================
T

he Blue Mosque
The Return of St. Francis
==============
The Pope at the Blue Mosque, and Hagia Sophia
"…..Upon arrival he was welcomed by the Governor of Istanbul and by the Ecumenical Patriarch Bartholomaios I, and then transferred by car to the Blue Mosque, or the Mosque of the Sultan Ahmed.
Built between 1609 and 1917 by Ahmed I on what had been the site of the great palace of Constantinople, the mosque became the most important place of worship of the Ottoman Empire. The name "Blue Mosque" derives from the 21,043 turquoise ceramic tiles adorning the walls and the dome. The ceramics used to cover the walls, columns and arches originated from Iznik in ancient Nicaea, and range in colour from deep blue to green. Benedict XVI visited the mosque during his trip to Turkey in 2006.
Pope Francis was received by the Grand Mufti and remained a moment in silent prayer.
The Holy Father then proceeded to the Museum of Hagia Sophia, the basilica dedicated to Divine Wisdom, first built in the year 360 by the emperor Constantine on a site previously occupied by pagan temples.
+++++++++++++++++++++++++
Hagia Sophia
===================
Pope Says God Not 'A Magician,
With A Magic Wand'
=================
     Some of the Catholic Church's most stalwart cardinals and their congregations have now been given a rather large shock: a "sandblast of Reality", as we used to say in the Church of Synanon. The trouble is that now the leadership of the Church will no longer be able to hide from scientific reality like children playing in a sandbox of fantasy.
Let us peruse some headlines:
"…..Pope Francis declares evolution and Big Bang theory are real and God is not 'a magician with a magic wand' ….."
Earthshaking, for a Church that made Galileo recant the fact the earth revolves around the sun!!!
…..and there was then this….
"……In a move that could be aimed at healing a rift between science and religion, Pope Francis has said that evolution and the Big Bang are consistent with the notion of a creator. And according to the pontiff, believers should not view God as "a magician, with a magic wand……."
Francis made the remarks at an assembly of the Pontifical Academy of Sciences, billed as meeting to discuss "Evolving Concepts of Nature."
He then goes further and says…..
"……When we read about Creation in Genesis, we run the risk of imagining God was a magician, with a magic wand able to do everything. But that is not so," Francis told the gathering, where he also dedicated a statue of his predecessor, Benedict XVI.
God, Francis said, "……created human beings and let them develop according to the internal laws that he gave to each one so they would reach their fulfillment……."
To be sure, the Catholic Church's views on the origins of the universe and life, unlike those of many Protestant sects, have for years been largely in line with the scientific consensus. The church has long leaned toward what some describe as "theistic evolution," i.e., a God supernaturally created the universe and life but allowed natural processes to work over billions of years.
In 1950, Pope Pius XII proclaimed that evolution was not at odds with Catholic teachings, and Pope John Paul II endorsed the view himself in 1996.
But the Pope clarified things with this statement…..
"…..The theories of evolution and the Big Bang are real and God is not "a magician with a magic wand", Pope Francis has declared.
           Amen, and AMEN